Cork in shoe making is natural, irreplaceable and most commonly used the material.
In this post, I will discuss this wonderful material, when and why we use it in shoe making.
Personally, I use cork in shoe making frequently and you should too. Let's see why?
Cork qualities
Cork has few unique qualities that no other NATURAL material has.
*soft and durable at the same time.
* lightweight
* Flexible
* anti-static
* absorbs vibrations
* easy  to work with
Cork in shoe making
1 After lasting our shoes we fill the bottom with the cork. We must do it to create perfectly flat bottom. This will create good, flat shoe foundation that will affect on the quality of our shoe sole, and that's why we use cork in shoe making.The thin layer of cork on the bottom of our shoes is also reduces the impact to our feet.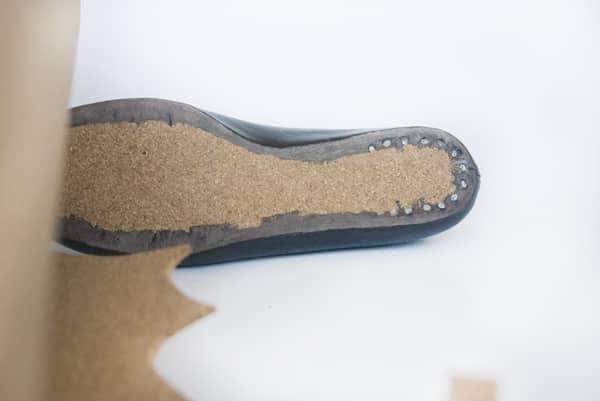 2. Insoles and footbeds. In orthopedic and comfort shoes they use cork for insoles and footbeds, because of its qualities. It is solid but very light. It absorbs and softens the impact to your feet and the entire body while you walk. Those qualities add extra comfort to your shoes.
Companies like Birkenstock and Teva Naot even create unique cork insoles. Their insoles shaped to match our feet, in the arch area, toes and heel. Take a look at what they do https://www.birkenstock.co.uk/
3. Cork wedge. In today's shoe industry it is almost impossible and not profitable to create real cork wedge. In mass production, they replaced it with a cheap plastic wedge. It doesn't have the same qualities as real cork wedge has.
I want to encourage you to make your own cork wedge for comfort and healthy feet.
First wedge cork in shoe making
Salvatore Ferragamo was a great shoemaker, shoe designer and shoe inventor, whose shoe patents we still use today. Personally, he is one of my biggest inspirations in shoemaking that pushes me to find new ways and solutions to make my shoes.
One of his great inventions was Cork Wedge heel. During the WW2, there was a big lack of materials in the footwear industry. Ferragamo created first cork wedge heel from cork wine bottles. It was very light and solid, that is how it all started.  
Make your own Cork Wedge
Why cork wedge?
It has the height that every women wants. But not like plastic wedge heel, it will give you all the support that you need.
Cork wedge heel gives flexible arch support, protect your bones and joints from the impact and that's why we will make wedge cork sandals.
I wanted to make footwear that is comfortable, fashionable and easy to make at the same time.
So if you are not convinced yet, why you need to use cork to create your shoes, here are few reasons why you need to take this course:
Fashionable and very comfortable platform sandals
Anyone can do it without any experience in shoe making
No special shoe making equipment needed
Easy way to make difficult shoe making things
New skills and possibilities in shoe making
Where to buy cork?
http://www.algeos.com/products_search.php?search_string=cork
http://www.bangorcork.com/products/cork-products/cork-sheets
http://www.amazon.com/Cork-Sheets-Plain-24-thick/dp/B001ACNW4I
http://www.widgetco.com/Search?search=cork+boards
http://www.lowes.com/Search=cork?storeId=10151&langId=-1&catalogId=10051&N=0&newSearch=true&Ntt=cork#!
What you think about using cork in your next project? Comment below!