Shoe  Fair
Thinking about attending a shoe fair /footwear trade show?
Did you design your first collection?
Maybe you plan to start your own footwear business?
Are you thinking what to do next, how to expand? how to get buyers, customers for your footwear.
The natural decision will be to attend a shoe fair. 
That is right, shoe fair/ footwear trade show are great idea, but there's a lot of details you need to consider before enrolling to any shoe fair.
Today I have a special guest post for you and it's all about helping you, small shoe business owners, footwear designers and entrepreneurs to maximize your potential and revenue by attending a shoe fair.
My guest is a very nice man,  with a ton of experience in the footwear industry, and my good friend Pete Julienne.  Pete is the Co-founder & Director of Sales and Marketing for Nomad Footwear.
They have very interesting design concepts and here is what  US industry trade journal, "Footwear News"  wrote about them.
What is the best shoe fair shows  for new business to attend in USA?  
Our landscape has changed radically over the past 5 years. Show attendance has been dwindling – new trade shows are popping everywhere some are good and some are bad.  We were attending about 2 to 3 shows a month across the US. Our Company scaled back on all the trade shows the past couple of years. The two major shoe shows are:
Ffany – historically is the catalyst for all shows. The beginning of the season. This show is where all Major buyers from the US attend.

Magic / Platform – This venue has become the new norm in our industry. Especially the Platform show which now replaced WSA and caters to Footwear buyers domestic and internationally. If you were to do any major show this is the one.

If you were to attend all the shows in the USA – you need to budget about 125K to 175K year.
Is it a good idea for a small scale footwear manufacturer/designer to attend this shows? Will he even go to be noticed at the shoe fair against all the competition? Will you suggest doing this or maybe look for other solutions, like doing some footwork, going to the stores and meeting personally with buyers? 
Yes by all means – otherwise you will not have a chance. It is possible not to attend, but there will be a lot of groundwork to do.  If you are to enter the footwear market these two shows are a must have.

In order to get noticed you must do your part your due – diligence. You need set up a good email campaign or direct mailer before each show.

Offer an incentive to visit your booth.

Try and pre-sell your line to major buyers.

Try and stand apart from everyone by dressing up your booth. Even if the show director says no!  do it anyway.

Your last question is the most effective and toughest of all! Most people do not want to see you anymore. They would rather receive emails than talking to a real person.

This is where you become a salesman and learn to do roadwork.  This is how I generate my business now. I am back to my old roots knocking on doors. Not many people like doing this – you got to get dirty.

You have to be able to present your line in a scaled down version, quick and effective.

Social media is huge in this era of the footwear business nowadays.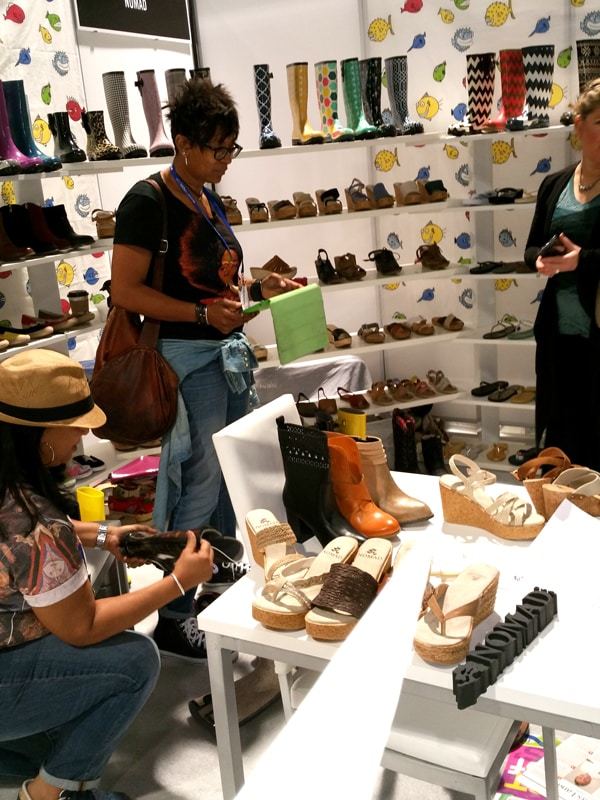 What is a good number of items you need in your collection to present in this events?
This is your one and only moment to approach you, the buyer. It is important not to overwhelm your customers but at the same time have a full line to show.

Have some eye candy for them to stop at your booth.

The majority of the booths sizes are 10 by 10.  Which will hold about 120 styles?

If you have fewer shoes fill your booth up with props or media buzz. Make it look special.

See pictures of our booth attached including hotel room shows.
Cost for a trade show/shoe fair:  This question include few parameters that I know new business don't think about:  Like what is the average cost to attend footwear trade show?  Including, traveling, logistic, decoration, marketing etc.
The cost of the trade show varies depending on if it is local or National.

The average cost Nationally is about $2500 – $5500 for a 10 by 10 booth.  Traveling expenses including Air Fares – Hotels, food and depending what State and Venue approx. $2500 for about 5 days.  Miscellaneous booth set-up and extra possible cost $500 for electrical. This is based on one person traveling and setting up only.

Local tradeshows range between $750 – $1000 and the price is rising. Traffic at these shows has greatly gone down over the years.

Marketing Ad Campaigns averages about $2500 to 10k depending on where you want to advertise. Most people don't this because of the cost.

Keep it simple using Instagram / Facebook / Twitter etc. etc.  more buzz the better.
What can you do to stand out at the shoe fair? 
Add your own personal style and touch. Ask yourself what would attract someone to enter your little world.

See attached pictures.

Dress the booth up and tell a story. Do things that catch peoples eyes and attention.

Keep your booth busy – even if people are not buying. The more people in your booth the more people will come in.

Make your booth feel alive.  Music etc. etc.

Don't sit at the table with your laptops – get up and meet customers.

Be the front person and say hi to everyone including the show workers. The more activity the better.
Planning: What you should do before going to the show, how to attract buyers? Do you send invitations, promote yourself online/offline? 
We send invitations and call customers as well.

Try and see buyers before the show and tie up their dollars.

Pre-show your line to major people.

Offer an incentive to visit your booth.

While at the show learn how to use Instagram and highlight a shoe of the day.
What is your worst experience at the trade show and what is your best experience at the trade show?
The worst experience was being placed in the Children category.  I lost a ton of business.

The 2nd worst being placed behind a major brand. The booth was so big no one saw me I was behind Skechers.

Not following the rules on the booth set-up. I did not read the fine print and ended up costing us $1600 dollars more or they would have shut us down.

Location is key to everything. It can make the difference between a good show and bad show.

Discuss with your show director beforehand to make sure you like your location.  If it is a bad location you might not get traffic.

Location – location is everything.
What is the best advice you can give to beginners? 
Recognize who you are competing against. Brand names dominate small companies

Ask yourself "Why I am different" what makes me special

Do not use cliché phrases i.e. "This is hot" or " No one has done this before" rather use. "I believe there is a category missing in the market place" and this is why I developed my line.

Tell people a story about your journey.  Have retailer believe in you.

Know your delivery dates in our industry

 Make your booth exciting – add spark to your booth.
Can you actually make sales first time on the trade show or you need time to establish trust?         
This is the biggest downfall for newbies. Sometimes at your first show no one will look at your line. You get discouraged and quit.

Customers need to see you a few times for them to build a trust – this is very important. Please do not get discouraged.

If you are not a brand there is a chance they will walk past you. Unless they know the Sales rep you hired.

If they don't know you and they give you chance and you do not ship for one reason or another. You lose them for a very long time because they tied up their dollars to give you chance and a quick way to lose your reputation.

Tradeshows are mainly for contacts and networking with buyers. Orders used to be abundant and the norm, now people are more cautious and will give you orders afterward – sometimes.

You really need to know your market and decide if this is the right trade show for you to attend.
Today, in 2015 what type of footwear buyers are looking for? Should you follow the trends to make sales or it is better to create unique, different footwear that they can't find anywhere?  
Every shoe line and clothing line follows trends and every buyer sees the same thing from one Vendor to the next.

Try to be on trend – but be innovative fresh and new

Fashion always repeats itself – it gets reinvented and reinterpreted

Give people something different a unique look they cannot find anywhere – but is still understandable.

Give them what I call "Eye Candy" something totally off the wall. Use this as a lost leader in their stores to bring in business. Sometimes it will turn into a fashion item. This happened to me before.
What you need to expect on your first time at the trade show?  
Do not expect to conquer the world at your first trade shows. The reality is very disappointing and heartbreaking at times.

It is not you if they don't stop by.  You have to keep your head up!

The return on your investment may not happen.

This will be your first chance to be in front of buyers that you never had before. Look at it – as your one and only chance to make an impression.

Follow up after the show is key and vital. This is where you can re-cap your investment. This is the toughest part of our business.
There is a lot of pitfalls that are almost impossible to know before you encounter them. For example, a business that I was working for a decade ago, had a huge success at the trade show and closed a lot of deals, which was great. It became a huge problem when he couldn't manufacturer everything he promised. He didn't have enough money and time to finish the orders. At the end, he was forced to refund the pre-order payments that he got from buyers, what left him with big losses for his business and very bad reputation.  
This sentence is the biggest problem with all major trade shows and is a kiss of death of a line. Everyone has had an issue like this before.

Most buyers encounter this problem when they attend National tradeshows and why buyers are cautious with small-time vendors.

This is the time when small Vendors like ourselves can gauge how many shoes we need to order. 

If you believe in your product pre-buy your key items. It is a big investment but sometimes does pay off if you know your market.

Once you lose trust especially in quality and shipping it is almost impossible to get it back. Reputation is everything.
I will always encourage anyone to start up a new line. There are many opportunities out there and there will always be someone new and fresh.  I was one of the founders of our Brand Nomad Footwear. I have been in the shoe business all my life and in wholesale for about 15 years.  
I can truly say I have seen just about every aspect of our industry from gifting lounges – interviews and being involved with manufacturing in China, Sales and Marketing as well as buying for stores I pretty much saw it all.  My hobby now is shoemaking and learning from great masters and understanding the process now.
The shoe industry landscape has changed with all the Flash Sites and Online presence.  Retailers buy top 10 brands first then their bread and butter vendors and newbies like us will have to fight for scraps. This is what makes our industry fun and exciting. You have to be creative and fresh. When a buyer compliments you on your line and buys it – well it is the greatest feeling to have. I am a big fan of Sveta and she is by far one of the best Fashion innovators and designers in my book. We are very lucky to have her as our teacher willing to share her knowledge.  I wish everyone the best of luck in their venture. Stay creative and fresh and when people say no to you style – find someone bold that will say yes – at least it will be a start. 
Pete is one of my first members at Shoemaking Courses Online. He makes great shoes and what is even more important is the progress, he gets better every time. He is hungry for knowledge! Here is some of his works:
Thank you, Pete, for the collaboration and great post and I'm sure this article will help and push someone in the right direction.  I know I made my own mistakes attending shoe fairs. It's a good thing to learn from your mistakes but to avoid them is even better.
So If this article was helpful or you know someone who needs this, share it please! Additionally, if you're interested in gaining more insights on launching your own shoe business, I invite you to read the article: "Shoemaking as a Business: Entrepreneurship in Shoemaking."