Today we finished working on our Women Oxford shoes and it was a long course( 15 lessons) but I know it was an interesting model for most of you to make. There are much more new shoe making techiques, new shoe pattern constructions in all my shoemaking courses online.
But today I want to share with you a very simple way to upgrade your shoe sole using the just ordinary utility knife, and I will show you on my fresh made Oxford shoes. Remember, for effortless work with a utility knife, it's essential to keep it consistently sharp, just like any other shoemaking knife and here is a shoemaking tutorial where you can learn how to sharpen knife.
Finished Women Oxford Shoes
Upgrade your shoe sole using the utility knife
This is really simple and not complicated process that any of you can do, to upgrade your shoe sole. We will not use any special tools to do it, and this is unconventional shoe making an approach that I always support. So let's get right to the business.
1. Duplicate Shoe Sole Pattern
Take the shoe sole pattern of your shoes and make a copy of it from cardboard. Note: If you don't have the original sole pattern, attach adhesive tape to the sole bottom, coppy the outline and transfer it to the cardboard.
2. Heel Tap
Measure 4.5 cm perpendicular line ( 90 degrees) to the center line of the shoe sole and draw the line. This line will be our edge of the heel tap.
3. Heel Tap Illusion
Draw thin 1 mm strips at the heel, with the 5mm distance between each strip. This way we will create an illusion of a shoe tap.
4. Divide The Sole Pattern
Mark along the central line strips with a height of 1 mm and at a distance of 1 cm between each of them.
5. Cut Out The Pattern


Now you have to cut out all 1mm strips on the pattern. Remember not to cut the strips all the way to the edges of the pattern ( see example in the picture).
6. Place And Attach
Place thin strips of adhesive tape on your pattern and glue it exactly to the borders of your shoe sole.
7. Mark The Form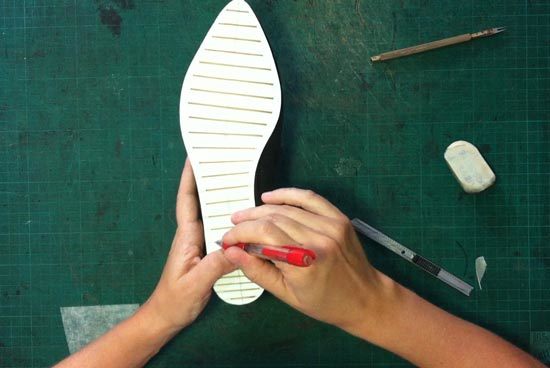 Using the pencil, mark the strips on the bottom of your shoe sole.
8. Score And Cut
2

Decline your utility in 45 degrees angle and just score the shoe sole. You must do it from both sides and this way you will create a very small channel.
Note: don't make deep cuts. See the infographic below.
That is it! Very simple and you didn't have to use any special tools to make it.
Nice, isn't it?
I love finding simple and creative solutions in my work and wish the same to you. And if you want to get more useful and effective shoemaking tips, check this shoe making article: "How to make shoes-Best Free Shoe Making Tips And Tutorials For Beginners".
If you liked this shoe making creative solution share it with someone else how you know will find it useful.