Making shoes for the first time? Do this!
If you are a beginner in shoemaking and you are making shoes for the first time, this is the first, and most important techniques, skills and footwear type you need to master.
There are few general shoe components that must be included in every shoe type when making shoes.
You can't make shoes without these components .
That means that once you will learn them you will already have this experience and in the making of the next footwear type you will do it easier and will master it even more with each next pair you'll make.
What are those shoe details and components that repeat in the making of each shoe type?
Shoe insole
Shoe sole
Heels
Shoe last customization
Shoe insole
Shoe insole is the central and important part of the footwear and in the process of making shoes we attach all other parts of the footwear to the insole.
We attach the shoe upper and lining to the insole, then we attach the shoe sole and heels to the insole.
In my ''Midsole/insole course'' I teach my students how to make 3 different types (most common ) of the shoe insoles.
This training is very important to learn for beginners as it will help you to solve your sourcing problems.
You can't source insoles that will fit your shoe last in small quantities. So if you don't have muss production, you need to learn how to do it yourself.
This is a professional approach to making insoles and that is how they are made in factories.
NOTE: there is one more approach in the shoe insole making , the bespoke approach, when you will be making the insoles with vegetable tanned leather.
I teach how to make vegetable tanned insoles in my Bespoke Derby Course.
3. Soft and comfortable shoe insole
Shoe sole
I developed a special approach for beginners to make beautiful and comfortable shoe sole without using any special equipment.
The way experienced shoemakers make shoe sole is really not suitable for beginners in this craft.
They take a big piece of leather, cut extra after attaching to the sho using special knife. Then to finish the sole edge they use different shoemaking irones.
You won't yet the same results , so if you are a beginner, you need a different approach.
My goal is to teach you and give you the skills and techniques to get the same results as pro-shoemakers. So we are doing it in a different way.
First, you will learn how to make a shoe sole pattern.
Then I am teaching the special technique that I develop pre shaped sole that will perfectly fit your shoes.
The result will be the same as in a traditional way.
Shoe heels
One of the most useful and easy to find material to work with and build heels is vegetable tanned leather . That' s why I focus a lot on this material and show different ways to build heels for beginners as you usually don't have all the tools and you actually don't need all of them.
There are 2 approaches in the heel making:
Traditional - is the method where you need to attach big heel lifts to the shoe sole and then cut the extra and shape it with the rasp
Alternative method (my method)- is the method where you make a pattern for each heel lift (layer) and after you will attach all layers together you'll get already shaped heel with the shape that you developed.
It will allow you to make heels with almost any shape.
I am teaching both ways in my ''Heel making course'' (construction course)
Shoe last
Yes, it is not a shoe component but a primary tool to make shoes.
I already explained that to make 9 different shoe types you need to have pump last.
But you even have more options with my approach.
If you don';t like the shape of your pump last, or you want to make shoes with different toe shape, you can change it. And it will be reversible change.
You can work with one pump last and make shoes with different toe shapes.
For example:
Let's say you have rounded toe shoe last shape and you want to make shoes with square toe shape, or to make pointed toe shape, you can change the shape of your last.
In my ''Shoe last change shape course'' I teach 2 different approaches how you can change the shape of your shoe lats toe.
What is important to know that is in both methods I am not only teaching how to change the shape of the last's toe, but also how to make them to be identical (you don't want funny shoe, right?)
1. putty clay
Easy to source, cheap material. Easy to work with.
2. Vegetable tanned leather
The advantage working with vegetable tanned leather that is stronger material and will last longer.
Both approaches focus on changing the shape of the shoe last toe which is super useful if you want to make different shoes, shoe designs but there is another approach how you can customize your shoe last.
This is italian shoemakers technique that I am teaching in my Bespoke Derby course and with this technique you will be able to take a standard shoe lats and customize it according to your your foot measurements.
This technique is very important to learn if you have'' problematic'' feet, if you have too narrow, too wide feet, or everything that is not ''standard''.
I know many of you prefer to watch the process, AKA my shoemaking tutorials, and I prepared one for you:
Flat ballet shoes are your starting point in shoemaking
In my courses, the first shoe type that my students ( if they are beginners, of course) must learn is Flat Ballet Shoes.
Why? Because it is the best way to get started learning shoemaking.
Basic Construction
Because the first thing that you will need to learn and understand in shoemaking is pattern making. The rules of flat ballet shoes construction are the most basic rules of pattern construction of all other footwear types.
– Primary rules on which Flat Ballets construction is based, will help you to understand better and in an easier way all other footwear types (classical and nonclassical):
It will be much easy to make pumps, Oxford and Derby shoes, sandals, T-straps, Slingback pumps, Penny Loafers, Moccasins, boots and many other shoes, your shoes
– With flat ballet shoes, you will understand the importance of each anatomical line( joint line, the height of the top heel point, central line, sideline)  and how it may influence on the comfort of your shoes.
Creating correct anatomical lines are important for all other shoe types as well and by already knowing the roots of each line from flat ballets will make your learning experience and progress much faster and easier.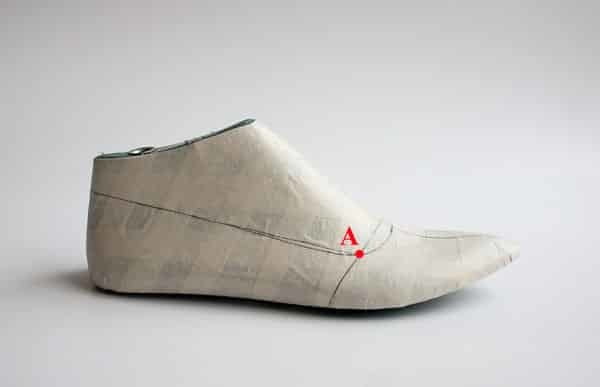 From Basic to Advanced

You just can't jump ahead!
Another reason why flat ballet shoes are the first shoes you need to make is, that it is easier to follow all shoemaking steps:
Pattern making – is a simple curved line ( throat line – check the post "Pretty Ballerinas Pattern Making and What Makes Them Pretty?!" )
Here you can practice with minor cutting, sewing before you will move on to more complicated types and so on.
One classic flat ballet shoes – the endless variety of flats
The secret of pattern making is, that it's enough to know one flat ballet shoes pattern construction to create a variety of ballets designs.
If you are just getting started in the craft of shoemaking, and you want to learn shoemaking the right way ( for you).
If you want to get constant improvement with every shoe pair you make.
If you need detailed, step by step teaching system that will teach you everything, from pattern making till finished pair of shoes.