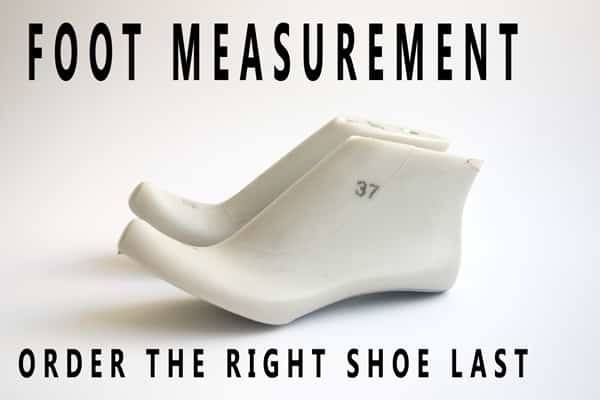 Foot measurement and more important correct foot measurement is necessary to order the right shoe last to make your shoes.
Recently I was asked again on facebook what is the correct foot measurement for shoe last.
As I was asked this question repeatedly I thought it will be a good idea to write a post on how to measure your foot correctly.
There are great shoemakers and  last makers that devote years to perfect this skills, and they definitely have more parameters to their foot measurement calculations.
In this post I will explain the basic and more simple way to find correct foot measurement. This will help you to order the right last. Remember, that the shoe last that you need not necessarily match the shoe size that you wear.
Two  Important Parameters of Foot Measurement
As a said there are few important foot measurement parameters, but there are two most important foot measurements that will help you to find the right size: length and width.
Length of your foot
To measure the length take a piece of paper (simple A4)
Place close to the wall (90 degree)
Place your foot on the paper when your heel touches the wall.
Using pencil, mark the longest toe. Usually it's the big toe, but there are exceptions. Hold the pen in 90 degrees to the floor.
Result
The distance between edge of the paper and the longest toe (your mark) is the length of your foot.
Note: You don't need to trace the outline of your foot.
This is your length in centimeters ( metric system).
The width of your foot
We all have different shapes of feet and the difference is not only in the length of our feet, but the width as well.  
We can have the same length (size), but it can be thinner or wider.
For example You are size 37, but you have wide feet and you wear size 38 or 39. That is because most footwear companies don't manufacture the full range of sizes ( width).
Measure the widest place on your feet, usually, it is a joint line (see in the pic).
Place the elastic ruler under the joint line and overlap the joint line.
That it is your width. In shoemaking also called girth.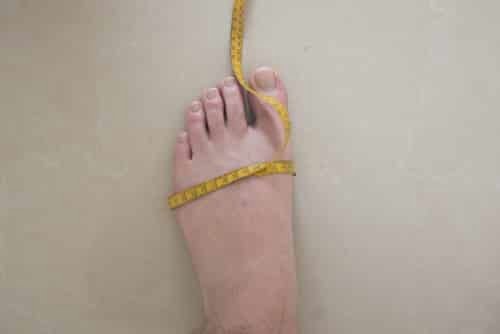 Three Systems of Measurement

There are 3 most used measurement systems: EU, UK, US
After you took the right foot measurement, you need to know how to pick your width.
With width measurement, you will know the exact last that you need to order.
–  Measure both of your feet and choose the biggest to place your order.
So, that's it for this post.
Caution! Many of you will be shocked to understand that you don't wear your real size.
Meaning, you could be a size 42 but you will have such a wide foot that you buy size 45 all your life.
That is why I want to encourage everybody  to make your own shoes
Take your foot measurements, try this approach and let me know how it works for you.