How to Make Bespoke Shoes From Home [with me]
Is it possible to make bespoke shoes from home? Why do you actually need to make bespoke shoes?
If you don't have standard feet ( guess what, none of us do) and you want to have comfortable shoes, you need to make a custom made shoes for you, AKA Bespoke shoes. In this post, I will explain why and how you can start making bespoke shoes.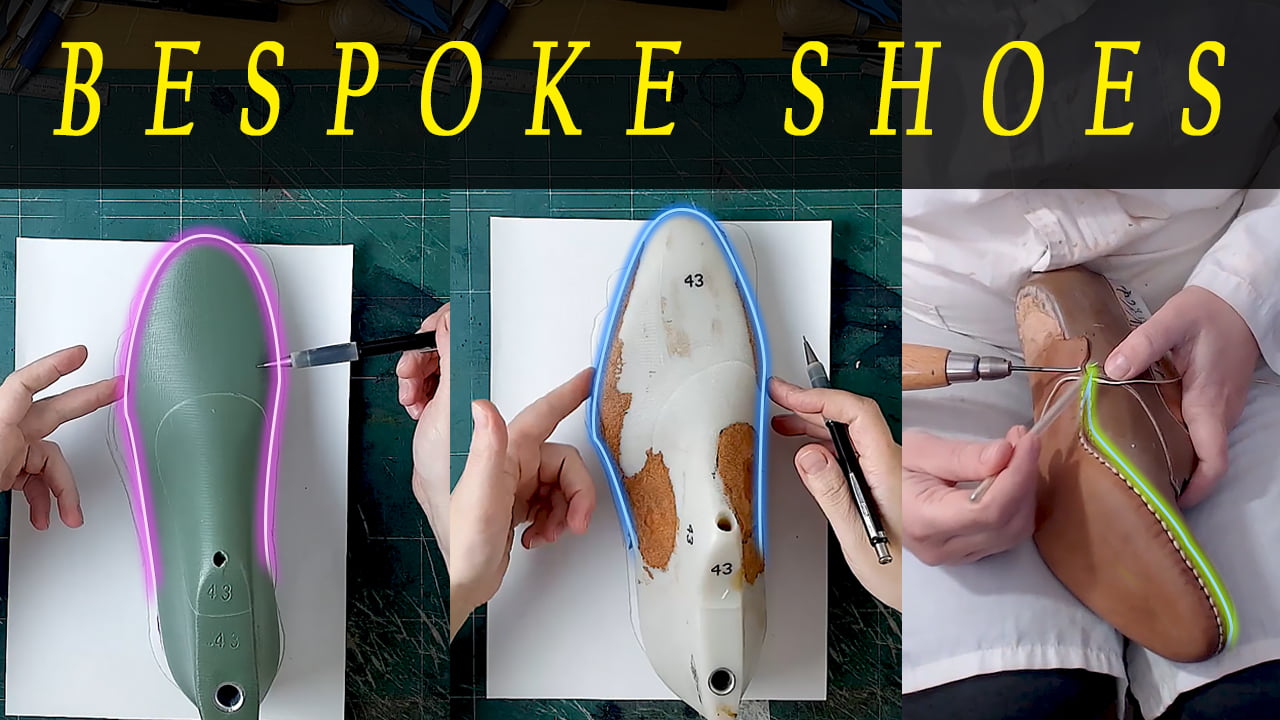 Let's start from understanding what it means bespoke shoes or custom made shoes.
Bespoke shoes are shoes that are made according to the feet measurements of the person to whom they are made, according to the shoe design preferences of the same person.
To make shoes according to the feet measurements is the process where bespoke shoemakers build shoe lasts following these measurements. So the custom made shoe lasts and the custom made shoes as well will have a shape similar to the shape of the client's feet.
Two methods of bespoke shoemaking
There are two methods to make custom made shoes.
1. Bespoke shoemakers take the feet measurements and build new shoe lasts from wood following the parameters of the client's feet.
This actually traditional bespoke shoemaking that requires a lot of knowledge and experience.
There is also another way to make bespoke shoes and it is a much easier method where
2. Bespoke shoemakers use the shoe lasts that exist and customize them according to the feet parameters
In my Bespoke Derby Opanka Shoe course, I teach exactly this method because it allows total beginners in shoemaking to make bespoke shoes at home like a pro.
Long time waited,
Next week: August 5-7
We will have a Limited -Time enrollment to my
Bespoke Derby Handsewn Opanka Course:
What you will learn in this course?
Derdy shoes pattern construction
How to customize your shoe last to fit you perfectly
HandSewn Opanka Sole
Veg tanned Insole making
Veg tanned toe puffs & counters making
So, I guess, you understand now what it means bespoke shoemaking.
The question is why do you need to make bespoke shoes?
Why you need to make bespoke shoes for yourself
I already explained to you about the standard shoe last and how it works in shoe mass production. If you missed this post "How to Measure Your Feet Size[ Order the right shoe last]", check it out.
Also, if you are new to shoe making and want to know more about shoe lasts, why we need them in making shoes, read this post of mine "Shoe Last Types & What Is A Shoe Last! [Definitive Guide]".
So, the standard shoe last will fit the standard feet only but do you have standard feet?
Most of the people DON'T have standard feet. They (and maybe you one of them) have some issues with their feet like wide feet, bunions, big toes, large feet, flat feet, narrow feet, etc.
That's why if you have an interest in shoemaking you should make bespoke shoes according to your feet parameters and you can do it from home.
Only by making bespoke shoes according to your feet measurements, you will have very comfortable shoes that will fit your feet perfectly.
How to make bespoke shoes from home
Yes, it is possible to make bespoke shoes from home because it does not require to have all shoemaking tools and shoemaking machinery.
It is proved by more than 2000 students of mine where many of them made their shoes even without sewing machines.
In this post, I will not list all need shoemaking tools because I already did it in this post "Making Flat Ballet Shoes [ Unlimited Designs ]"
So, make sure to check it out.
What you will need is to have some minimum space at your home to start learning shoemaking and making shoes at home. It doesn't have to be a special place.
Most of my students work simply at their table where they organize all the tools they got from me and work following my instructions at their own pace because all the lessons are pre-recorded.
What you will have to do to succeed in making your shoes at home is to take pictures of your working process and send me, so I can check your work and guide you through the entire process.
Conclusion :
To make bespoke shoes at home you need 4 things:Organize some working place at your home
1.Organize some working place at your home
2.Get basic tools
3. Take pictures of your working process
And the last one is
4. You should have a strong desire for shoemaking
First steps in bespoke shoemaking
The heart of bespoke shoemaking is a shoe last customization. I will talk with you about the second approach of bespoke shoemaking that I already mentioned at the beginning of this post because everybody can do it without having any experience in shoemaking.
No, don't catch me wrong, it is not easy to do things, it is just an easier way to change the shape of the existing shoe lasts than to build a new shoe lasts from scratch.
Now, if you want to start making bespoke shoes at home now, you already can do certain things.
I want to give you a tutorial with an explanation about your first steps in bespoke shoemaking that you can apply right now.
I already explained to you how to measure your feet length and width to know what shoe last size you need to work with.
The next step is to customize this standard shoe last according to your feet shape because every shoe last you can find in any store is a standard shoe last.
So after you will get a shoe last with the right size you can follow the steps I will show you right now.
You will create an outline of your feet.
This is one of the most important steps in bespoke shoemaking that gives you a clear understanding of where you will need to customize your standard shoe last, where you will need to change the shape of the last to be similar to your feet shape.
It is not enough to measure your width in the joints, feet waist, instep, short, and long heel girth.
To have a clear idea of how to change the shoe last shape you will need to have also the drawing of your feet and this is actually the first step in bespoke shoemaking.
The drawing of the feet consists of two outlines: the outline of the external feet surface and the outline of the internal feet surface.
According to these two outlines, you will know where on the shoe last insole you will need to make corrections.
How to make drawings of your feet
 Place your foot on the paper.

Stand simply on the piece of paper

Draw the external outline of your foot.

Take a simple pencil and place it at 90 degrees angle toward the paper. 
Now, while drawing the outline of the foot keep the pencil always at 90 degrees angle.


Draw the internal outline of your foot

Continue standing on the paper in the same place and draw the outline of your internal foot surface by placing the pencil at 60 degrees angle toward the paper. You will need to draw the outline around your foot until the toes.
That's it. After you will make these outlines, take your shoe last and place it on this drawing to see where you will need to customize this shoe last.
To explain it better, I prepared for you a video tutorial where I talk about bespoke shoemaking using outtakes from my Bespoke Derby Shoe Course and show how to draw the outlines, and why we need it.
There are different ways to create footwear, but there is nothing to compare when you talk about natural materials, and that is what we do in Bespoke Derby Opanka Course. We work with Vegetable tanned leather to make our insoles and to make our stiffeners. In this post, I focus on every benefit of working with vegetable tanned leather for all your shoe components, but the most important benefit is, there is nothing that will fit you better than a natural material.
More than that in my New Bespoke Derby Opanka Course, I will teach you a unique way of hand sewing opanka sole.
In this post, we will discuss all the benefits of working with veg tanned leather in shoemaking and how this type of leather is useful to make bespoke shoes.
Yes, bespoke shoes that will fit you perfectly and only you. Because bespoke shoes are made according to your feet measurements and not just made on a standard shoe last that must "suit all", and it never does.
Why To Customized Shoe Last With Veg Tanned Leather
I know most of you buy standard lasts ( made for order lasts cost too much) that is why in my new Bespoke Derby Opanka Course I will teach you how to customize standard lasts. I will teach you how to take exact measurements of your feet to make your lasts perfectly just for you.
To have perfect shoes, 100 % comfortable from the first time, you as a shoemaker or a beginner in shoemaking need to customize your shoe lasts according to your feet.
If you have wider feet you need to enlarge your shoe last.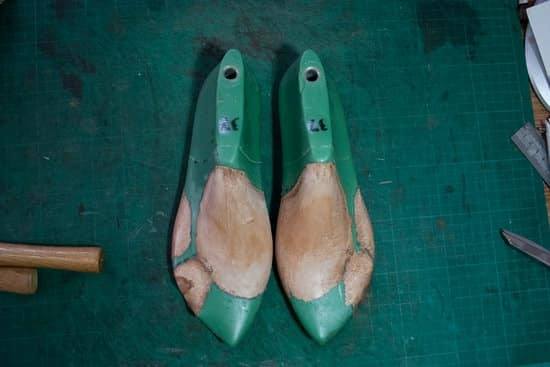 1.Easy to work with
When you wet veg tanned leather it becomes very soft. So it is very easy to cut and to attach it on the curved places of the shoe last, to skive and achieve desired shape and form.
If you skive or cut too much ( and you get a smaller dimension than you needed), you can always attach another piece of leather and reshape it.
2. It becomes solid when it's dry
After you will skive, sand the additional veg-tanned leather pieces they will dry and will become solid like your plastic or wooden shoe last.
Veg Tanned Toe Puffs And Counters in bespoke shoes
In the shoe industry there are different materials from which you can make your shoes and each of them has their own advantages and disadvantages that eventually influence the quality and comfort of your shoes.
For example:
For toe puffs and stiffeners that will keep the shape of your shoes and protect your feet, there are few materials to use: chemical non-woven sheets, activated with solvent( you already learn it in my courses), synthetic heat-activated stiffeners and veg-tanned leather stiffeners.
The first two materials are cheap, but the quality of these toe puffs and stiffeners are far away from veg tanned leather toe puffs and stiffeners that have a long history of use in shoemaking.
Benefits Of Leather Toe Puffs And Counters
1. First of all, Veg tanned leather is a natural material and is the main advantage of working with leather toe puffs and counters: you will not work with any toxic materials, only natural materials.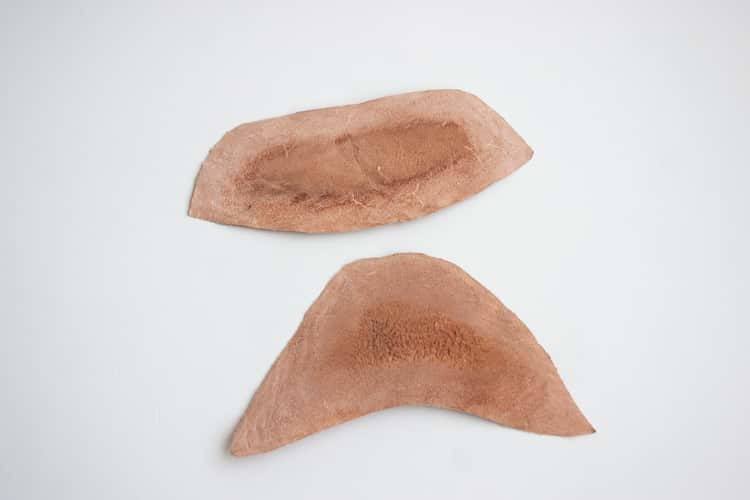 Leather counters are dense and hard, but they become soft and easy to work with when you wet them. Because veg-tanned leather absorbs water.
When you will work with leather toe puffs and stiffeners you need only to wet them in water to make them stretch in any direction.
Leather tanned stiffeners after drying become solid, but flexible. When you learn the right approach to work with leather stiffeners you will create a solid surface only where it is needed( in the tip of the toes), but soft and flexible in the joints (bones area).
You will get much more comfortable shoes with leather stiffeners then with any other synthetic stiffeners.
This is another big advantage in working with leather stiffness because with the other two materials you will have no control over softness and hardness of your stiffeners.
3. To attach leather tanned toe puffs and counters you will use non-toxic water-based glue only!
You are not limited in time using leather stiffeners.(we all love to work at our own pace, so that is a big plus!)
You can wet leather stiffeners again and continue to work later if you need to take a break. With solvent activated stiffeners and heat-activated stiffeners you are strictly limited. Once you activate and place them in the upper, you need to proceed immediately and work as fast as you can, while stiffeners and toe puffs are activated.
5. You can reach thin edges of leather toe puffs and counters by skiving, that will guarantee good quality and beauty of your shoes.
6. You can shape your leather toe puffs and stiffeners with the hammer till you will be satisfied with your beautiful heel and toe shapes.
Leather Insoles
When you need to create insoles you can make them from cardboard or from veg-tanned leather.
Cardboard's are cheaper than veg tanned leather, but veg-tanned insoles definitely make your feet feel happy, Because:
1. Your veg-tanned leather insoles will be molded to the bottom of the last, so they will keep the round surface of the shoe last bottom that repeats the curves of your feet.
These leather insoles will be much more comfortable than cardboard insoles as they can't repeat the shape of the bottom last as leather insoles do.
2. Leather insoles are very easy to construct as you will wet them and will mold them to the last bottom.
After they dry, they become solid and flexible
3. With leather insoles you can create additional support to your arch zone to add more comfort to your shoes. This shoemaking technique you will learn in this Bespoke Handsewn Derby shoes course.
4. Leather insoles last longer than cardboard insoles.
Cardboard insoles may break down and they are sensitive to water.
Here are all the benefits of working with vegtable tanned leather to create your shoes, and that is why I am so excited about my Bespoke Derby Handsewn Opanka course. There are many more new and interesting techniques that I will teach you in this course so if you really want to make bespoke shoes at home, don't miss this opportunity.