How To Make Shoes With Bad Shoe Making Supplies
How to make beautiful shoes that the only leather you can buy is a thick, too soft, bad quality leather that mostly uses in furniture?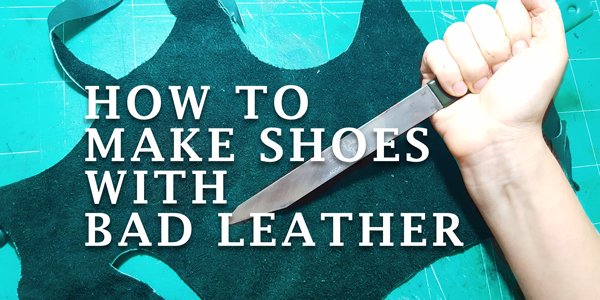 If you will persist and work with this leather as it is, the shoes that you will make will have an ugly do it yourself look, but I'm sure you don't want.

Now, how you can make shoes if that is the only solution you have.

In this post, I will show you a simple solution on how you can make shoes with not ''the best'' materials for shoemaking.
Remember, this is not the typical approach to make quality shoes.

But if you are a beginner in shoemaking and you just wonder if shoemaking is for you or you want to learn how to make shoes, but you don't want to spend too much money right at the beginning ( you can't source quality materials for shoemaking), let's see what I have for you.

Shoemaking Suppliers Solutions
My approach on how to make shoes is the simplicity that is based on knowledge.
If you are a beginner in shoemaking you don't have to own all the tools and all the best quality materials to make shoes because that has no guarantee to make beautiful and comfortable shoes.
If you never skived or never sew the shoe upper, great quality sewing machine or top quality leather won't help you.
What you need instead is to focus on your knowledge in making shoes and skills.
In my online shoemaking courses, first and most importantly, my students learn and gain the knowledge, skills, and understanding how to apply everything in shoemaking craft, and everything else is simple shoemaking creativity.
The best way to buy heels is to buy them together with the shoe last because of the simple fact that the wedge and the seat heel must match the wedge of the shoe last.
But what do you do if you buy them separately?
The heels that you will get won't match the shoe lats so you will need to adjust them.
Plastic heel
If it is plastic heel change the wedge angle by sending it and then cover the heel with leather or fabric.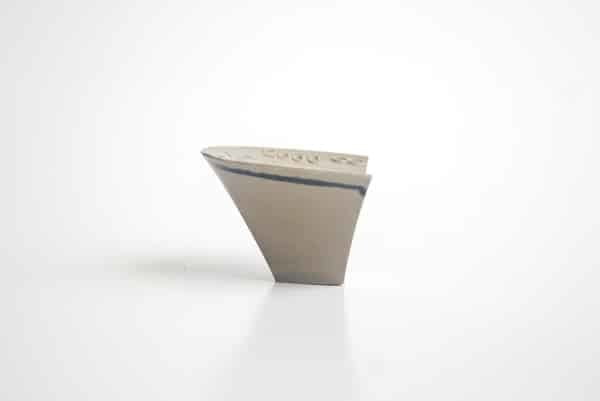 Low wedge heel
Combine from bespoke shoemaking approach, we will add a vegetable leather layer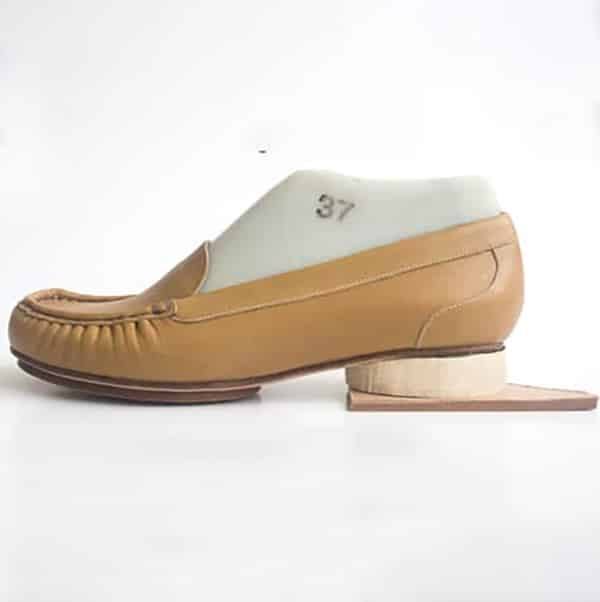 This is a mocassin from my "How to make Mocassins course" with a wooden heel that I teach how to build in the course. So this is another option you have when you can't find proper heels for your shoes: make heels by yourself.
3 important shoemaking materials, components in making a shoe are upper leather, cardboards for insoles and cork.

These are basic materials in shoemaking but if you are a beginner (not only) you will know that sometimes it is difficult to source them in a small quantity but should this problem stop you from making shoes?

No way!  Right now I will show you step by step solutions on how to make shoes using leather for upper that has bad quality, a leather that is too soft!

Now you can learn one of the useful shoemaking techniques on How to use ''bad'' leather in making of shoes?-step by step
How To Make Shoes With BAD Leather
Time needed: 35 minutes.
How to make shoes if you have ''bad'' leather for the shoe upper?
Step by step tutorial on how to improve too soft upper leather to make shoes
Cut the upper part of your shoe from the leather you have

There is a professional shoemaking approach to cut leather and in this post ''How to Cut Leather for Shoes Correctly?!'' you can learn it.

Skive the shoe upper in the places where you need to.

There is a shoemaking approach on how to skive leather with shoemaking knife. If you still don't know how to skive learn it in this post ''How to Skive Leather in Shoemaking?!''


Make a pattern of reinforcement.

To use your too soft leather in shoemaking, you need to reinforce it. There is a special reinforcement material in shoemaking but you can do it by using simple denim fabric.
It must be thin and dense.

To make this pattern of the reinforcement use the upper pattern.

In the place where you have folding reduce on 6 mm
In the place where you have the underline reduce on 4 mm
In lasting allowance reduce on 6 mm

Cut your fabric

Place your new pattern, the pattern of the reinforcement, and place it on the fabric. You can cut it right away using the utility knife, exactly as you did with the leather upper.

Put glue on the inner part of the leather upper and on the fabric

Use the same contact glue that you use usually in the making of shoes. Wait until the glue will dry.


Attach them together

Be accurate and attach them precisely.

Hit well with shoemaking hammer

If you don't have the shoemaking hammer use the ordinary one.
Love Shoemaking? Pls Share